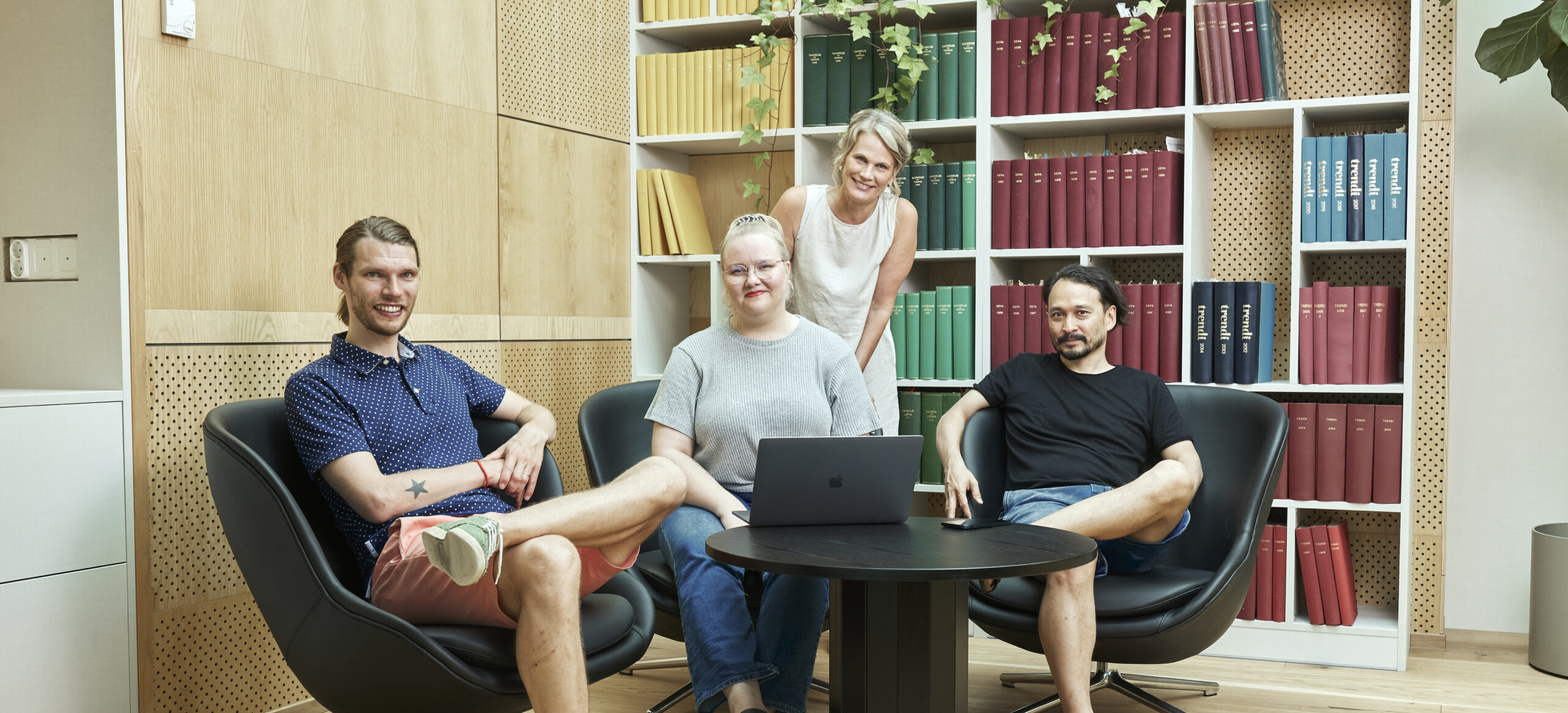 Kierrätyksen sankarit is a 60-page workbook for kids to learn about recycling in a fun and easy way. This year Kierrätyksen sankarit was brought to the virtual world when Genero's team built a digital learning platform around the concept. Behind the project are Senior Designer Alexandra Westerback, Content Strategist Kata Cygnel-Nuortie, Senior Developer Taro Morimoto and Account Director & Team Leader Tiia Mannermaa.
Tight teamwork is essential – and fun!
Although the team combines jacks from all trades, everyone works together as a team to bring the project to life. As the Kierrätyksen sankarit platform is an interactive digital service, the project has required active cooperation with the whole team and everyone has worked with everything, despite their different roles.
"This has been such a fun project, because it has truly been teamwork. We haven't been in our own silos, but everyone has participated in everything", Alexandra says.
"Yep, the more interactive the service is, the more you need teamwork to make it happen", Taro explains.
The team lifts excellent project management as a key factor which has made the cross-functional team work like a well oiled machine. Nothing is left unclear when Tiia handles communication smoothly, and answers any questions in no time.
"Tiia has been taking the lead very well. Despite the complexity of the project and multiple different people working together, we always know where we are and where we're going", Alexandra says.
Unleashing the creativity
Creativity thrives when people with different backgrounds and ways of working come together. Everyone takes part in brainstorming ideas and coming up with fun concepts. They share thoughts freely and let the inspiration flow. As everyone looks at things from different perspectives, creativity is maximized.
"The client, 12 producer organisations, gave us free hands with the project. We got the freedom to brainstorm and workshop together with our team and think about how to bring the vision to life. We have truly been able to use our imagination in this project", Tiia says. 
"Yep! All the workshops we held internally were extremely creative, it was super rewarding", Alexandra says.
"It's been great that everyone has been so excited about the project and so dedicated to bringing it to life. We have truly been able to make the physical book into a digital game in a fantastic way", Kata celebrates.
Learning from your co-workers
Although the team members are no new-comers in the industry, the complex project has taught the old dogs some new tricks too. Creating an interactive virtual platform for kids is very different from building webshops and creating content hubs, which is an everyday thing for the team.
"This is a different type of service. I've learned a lot about game design and development. There are a lot of small things you have to take into account when designing such an interactive website", Alexandra says.
Combining different skills in one team also teaches a lot about your colleagues' ways of thinking and doing.
"Kata brings the content point of view to the team, which is something we otherwise wouldn't have. That knowledge has helped us to create the best possible service", Alexandra explains.
"We always have a lot of ideas on the content side, but not concrete knowledge on if those ideas actually work. It has been so inspiring and encouraging to see that there are technical solutions even to our wildest ideas", Kata laughs.
The team is delighted to work with such multidisciplinary projects where different skills join forces.
"More projects like this, please!" Kata says.
Take a look at the result of the project and test it out here: https://kierratyksensankarit.fi/.
Read More