High-quality eye treatment provider Ögonlasern has seen impressive results since the start of our cooperation: website visits have increased by 160% and online leads by 173%!
Together we grow
Our co-operation resulted in:
Why we love this client
Ögonlasern is a Stockholm-based company that specializes in eye laser treatments.  On top of their eye laser treatments, Ögonlasern offers advanced eye surgeries that few companies are able to offer. They are a high-quality service provider, committed to offering a freer lifestyle since the business was founded in 1990. Their excellence is reflected in the large number of positive reviews they've received over the years. 
Genero has been supporting Ögonlasern with growth marketing since the beginning of 2022. We love working with a company that has ambitious plans to increase its digital presence. They understand the importance of growth marketing and share our growth mindset. Moreover, Ögonlasern's team is truly a joy to work with!
Challenge
Ögonlasern's marketing has two main objectives: increasing brand awareness and supporting lead generation. Through brand awareness, they aim to increase organic reach and strengthen their presence in the industry. Generating leads and increasing the number of bookings is also key to Ögonlasern's success and growth.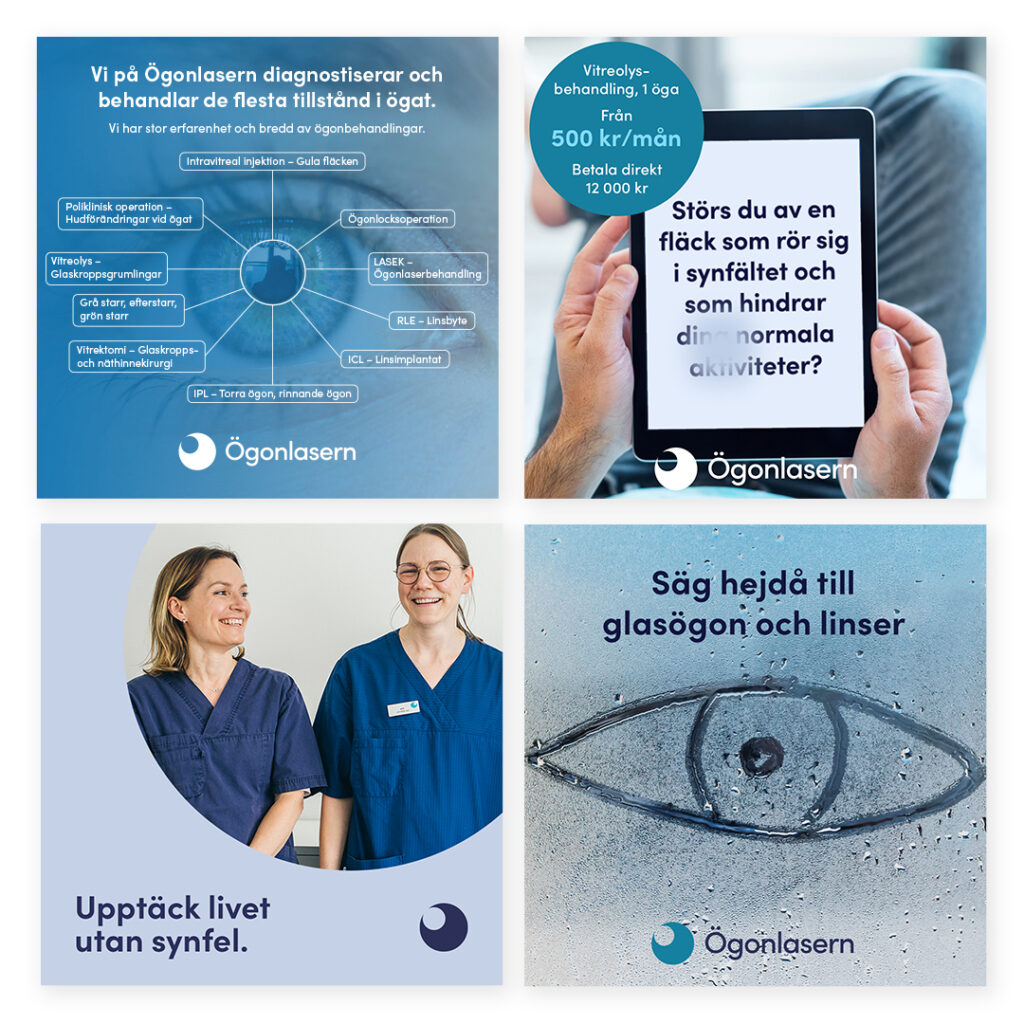 Solution
We began our cooperation by completely renewing Ögonlasern's website. Starting with mapping the buyer's journey, we helped them with new design, copy, and conversion rate optimization. The new site was launched in March 2022. 

We then got busy with growth marketing, including SEO, search engine advertising, and social media advertising, powered by beautiful and conversion-optimized ad creatives. This fall, we completed another optimization round to keep up the good pace in both brand awareness and lead generation.
Results
Ögonlasern's investment in growth marketing has paid off! The new site proved to be a great success: website visits have increased by 160% since the launch. Not only that, but through increased focus on SEO, the amount of keywords that Ögonlasern ranks on in the top 3 positions in the search results has increased by 143%. 
We've also been successful with Ögonlasern's main objective: lead generation. Since the beginning of our cooperation, Ögonlasern has seen a 173% increase in online leads!
Want to know more?
Similar cases