+27%
Increase in annual SALES
Challenge
Renowned for their delicious panini sandwiches, Mr. Panini holds a strong position in Finnish grocery stores, cafes, and service stations. In spring 2022, the company expanded its product line to include flatbread wraps.
Although Mr. Panini had an established brand and loyal customers, the new wraps posed a challenge as it was a completely new product group for Mr. Panini and fulfilled a slightly different need than the paninis.
Paninis are generally eaten warm and can serve as a meal in themselves, the new flatbread wraps were primarily grab-and-go snacks.
A key ingredient in the enduring popularity of Mr. Panini has been the much-praised, unique bread used in their paninis. This could not be used as a selling point for the new wraps as they would be made with a different type of bread altogether.
Genero has been Mr. Panini's online marketing partner since 2013. For the flatbread wraps, our task was to plan and implement a comprehensive launch campaign across digital channels.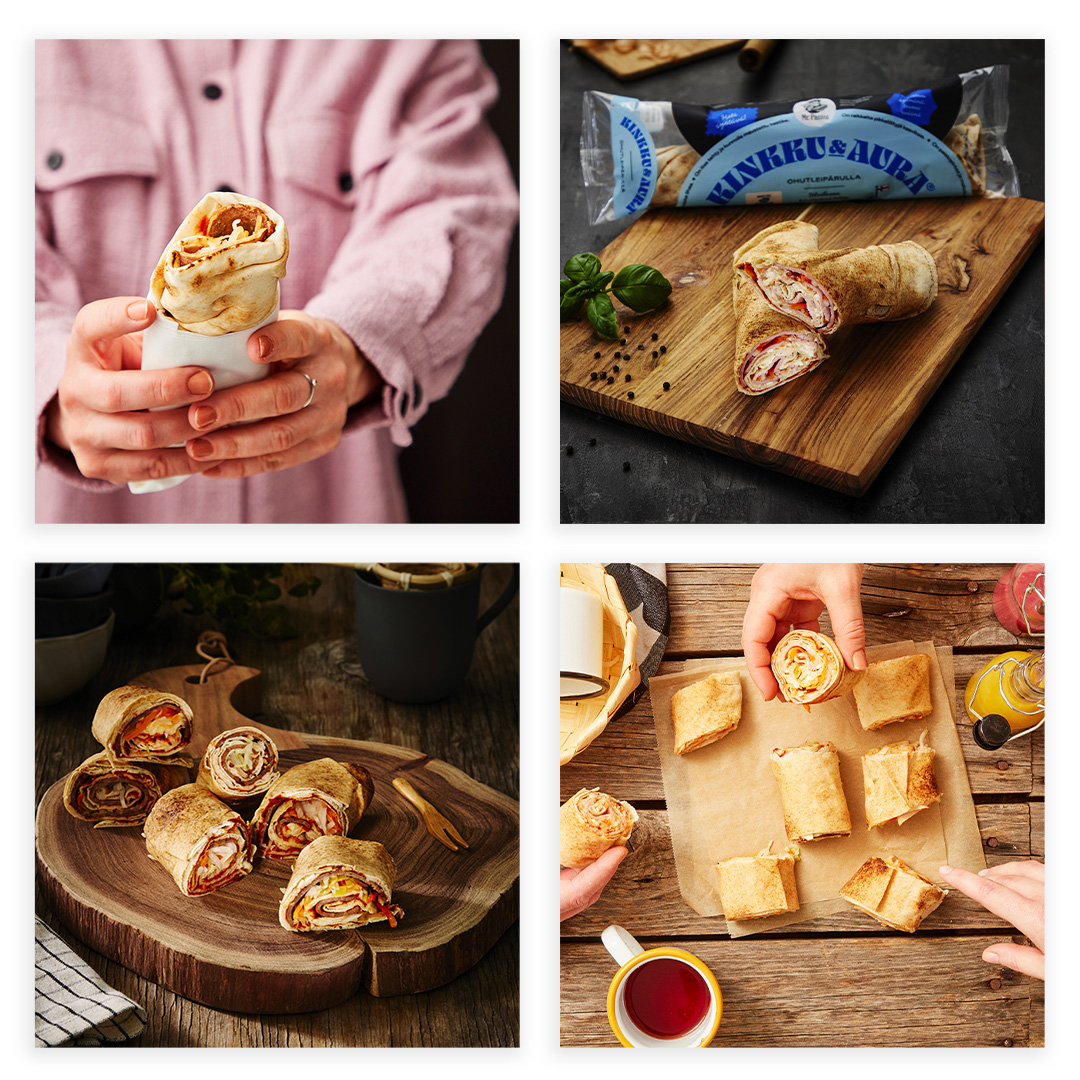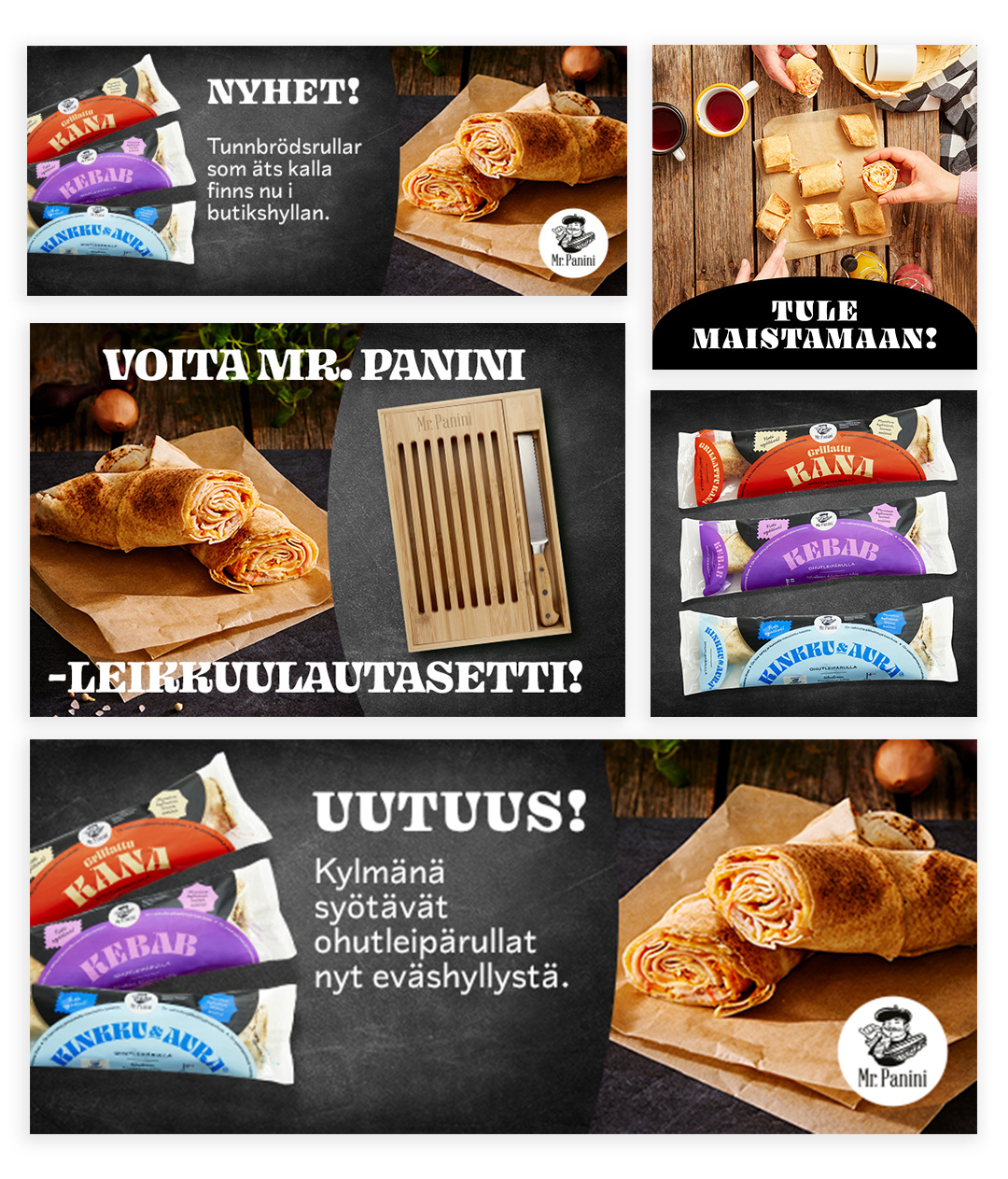 What we did
Our creative approach was straightforward: to encourage people to buy the new wraps, we showcased the variety of flavors, prominently displaying the product packaging and Mr. Panini's recognizable logo. We created several ad variations, primarily in video format, and finetuned them to fit each advertising channel.
To ensure broad reach and visibility, the campaign ran concurrently across multiple online platforms. YouTube, Facebook, and Instagram were the primary channels in terms of media budget and audience reach. However, given the importance of younger consumers in the snack market, TikTok and Snapchat advertising played a substantial role. The budget allocation was adjusted throughout the campaign based on each channel's effectiveness in engaging potential buyers.
Besides video ads promoting awareness and highlighting flavors, the campaign included collaborations with Instagram influencers. These carefully selected brand ambassadors allowed us to target key demographics, such as busy parents. The idea was that they could encourage their audience to try the new products more persuasively than regular online ads.
In addition to our online efforts, Mr. Panini's employees organized in-store product sampling events. These were promoted through local Instagram and Facebook ads to raise awareness.
Results
As soon as the wraps hit the stores, it was clear that demand surpassed expectations. The flatbread wraps quickly secured a permanent spot on shelves, and for several months, Mr. Panini received more orders than their production capacity allowed. To meet demand, they hired over 20 new employees to increase flatbread wrap production.
The wraps' enthusiastic reception, coupled with a rise in panini sales, led Mr. Panini to exceed its 2022 sales target by 17%. Compared to the previous year, retail sales grew by 27% and total sales by 23%.
Meanwhile, the media costs for our online campaign ended up being only around 1% of the flatbread wraps' sales between May and December 2022.
"Since the launch of the flatbread wraps, we've consistently achieved record growth every month. In 2022, Mr. Panini experienced its highest sales ever. While panini sales grew, the successful launch of the flatbread wraps played a significant role in driving our record-breaking total sales."

Minna Tyni, head of sales, Mr. Panini
Want to know more?
Similar cases